Original Square Mince & Vege Pie
Back in 1968, Ray Coupland, founder of Coupland's Bakeries started baking pies and catering them to businesses in Timaru. Realising the potential of baking pies and catering, Ray expanded the business and built a bakery in Timaru wholesaling to Mid and South Canterbury. The business continued to expand, and the opportunity arose to purchase a hot bread shop in Christchurch. From there, Ray purchased Christchurch Pie Manufacturer, Stevenson's Pie and the famous Coupland's Square Mince and Vege Pies were introduced!
Our Square Mince and Vege Pies contain 100% New Zealand beef mince and a thick vegetable gravy and is encased in our specialty puff pastry. Customers love our Square Mince and Vege Pies because they taste fantastic and they also retail for a really good price if you are feeding a large family.
Our customers constantly tell us about different memories they have of Coupland's, our original pie and Ray in particular. Some customers have said "We live in the house behind where the factory used to be in Ferry road. We still live there now and miss the smell that used to come over the fence" – Koren and "I remember when he started baking out the back of the dairy on Evan's st." – Andrew.
Thank you to all of our loyal customers and families who have supported us from the start, we couldn't have got here without you!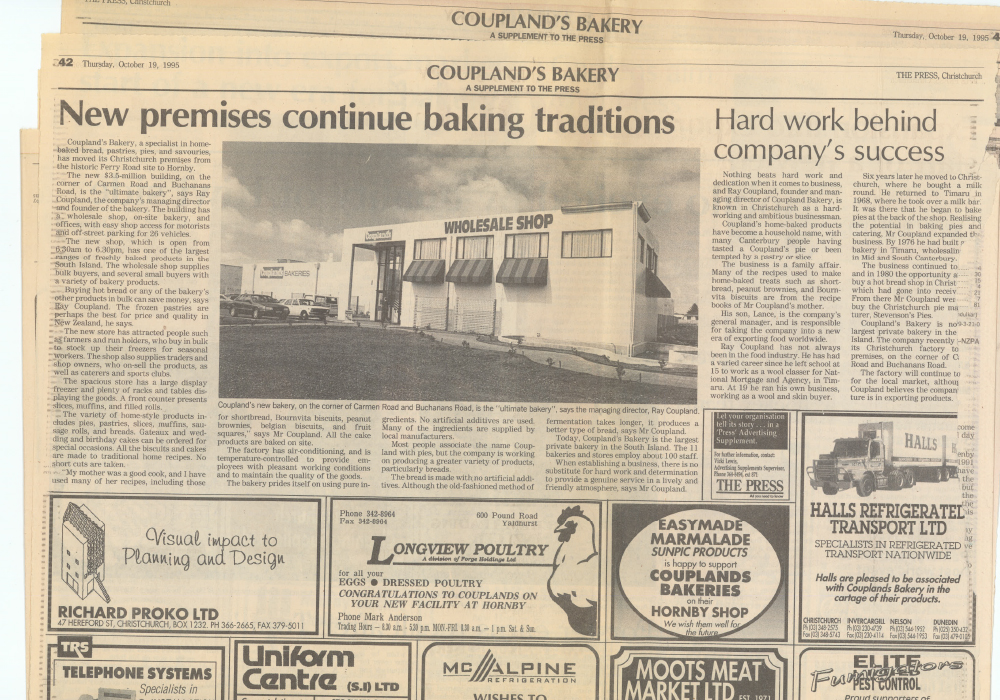 What memories do you have of Coupland's Bakeries?