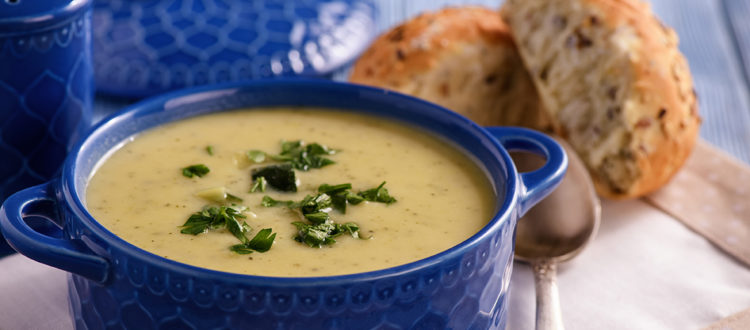 Nana's Leek & Potato Soup
The perfect cure on a chilly winter's day.  Coupland's asked our staff for some of their favourite winter recipes and has teamed up with Nana Ruth to deliver you a super easy and delicious homemade soup!  Pair it with one of our delicious yummy rolls – we recommend Southern Plains Grain Rolls.
Prep Time: 10 minutes
Cook Time: 30 Minutes
Ingredients:
3 Onions
3 Leeks
6 Potatoes
5 cups Chicken Stock
3 Tbsp Butter
Salt and Pepper
To Serve:
1 Tsp Cream
Pinch of Chives or Parsley
Pinch of Paprika
6 pack Coupland's Southern Plains Grain Rolls
1. Melt butter in a large pot on stove
2. Add chopped leeks & onions and sauté – until soft
3. Peel & chop 6 potatoes
4. Add chicken stock & chopped potatoes to the leeks and bring to the boil for 15-20 mins or until tender.
5. Season generously with salt & pepper
6. Once cooked – using a stick blender, puree the soup until smooth
7. Place in bowls and add a dollop of cream, chopped chives or parsley and a pinch of paprika
8. Serve with Coupland's delicious Southern Plains Grain Rolls smothered with butter
Did you enjoy this recipe?