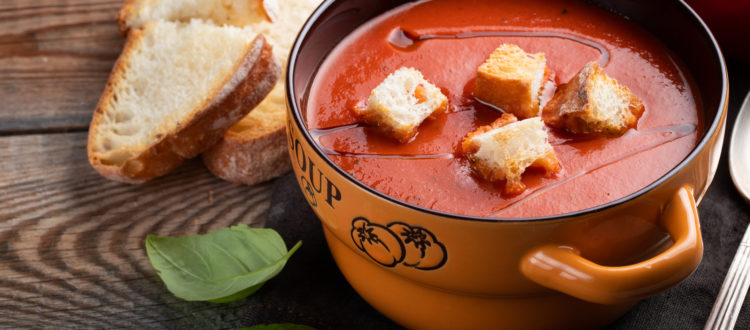 The ultimate comforting winter lunch! Soup and lightly toasted bread spread with butter.
Ingredients
2 tbsp unsalted butter
2 tbsp olive oil
1 onion, chopped
3 cloves garlic, crushed
Salt and Pepper
2 tbsp flour
1 can whole peeled tomatoes in juice
2 cups chicken or vegetable stock
2 basil sprigs
Method
Heat oil and butter in a large saucepan over medium heat.
When butter melts, add onion, garlic, and a pinch of salt.
Cook, stirring often, until onion and garlic are soft and golden.
Stir in sifted flour and cook for 1 minute.
Add 1 can of whole peeled tomatoes in juice, stock and basil sprigs.
Bring to boil, then cover and reduce heat to low. Simmer until tomatoes are very soft and breaking down.
Discard basil sprigs and let cool slightly.
Working in batches, puree soup in the blender until smooth. Return to saucepan and heat. Season to taste with salt and pepper.
To Serve
Divide among bowls and top with basil leaves, a drizzle of oil and cracked black pepper. Lightly toast a couple of sliced of of Coupland's Premium White Toast until golden, spread with butter and dunk'em.
Tip
Tomato Soup can be cooled at room temperature and stores in an airtight container in the fridge for up to 5 days.
What's your ultimate comfort meal?