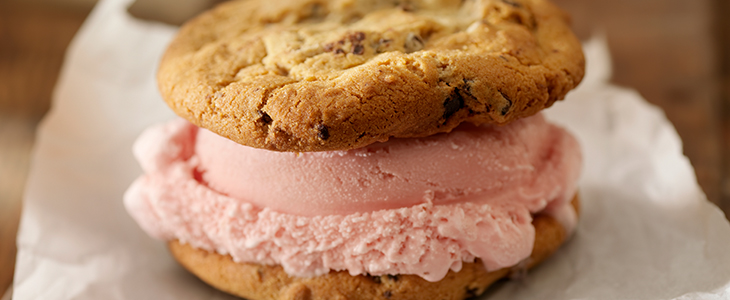 The only thing that makes warm heated Super Choc Chip Cookies better in our opinion, is a scoop of ice cream sandwiched between two!
How to make Ice Cream Sandwiches
Ingredients:
2 Cookies – we used Super Choc Chip

1 small Scoop of Ice Cream – we used Strawberry
Method:
Take the Ice Cream out of the freezer.

Place the Cookies on a dish and put in the microwave for 10 seconds to heat slightly.

Take Cookies out of the microwave.

Scoop one small scoop of Ice Cream and put it on top of one heated Cookie.

Place the other Cookie on top of that and eat! Delicious! 
Tips:
Don't limit yourself to just cookies either, think outside the box and try alternatives like Chocolate Brownie, Donuts or Lolly Slice.

If you don't feel like eating the Ice Cream Sandwich immediately (but who won't), feel free put in a small container or wrap with Glad Wrap and put in the freezer for later.

Want something extra sweet? Drizzle some Ice Cream topping (e.g. Caramel Sauce or Choc Wizz) on the scoop of Ice Cream before putting the top Cookie on

Or, want to make it fun for the kids? Get the sprinkles out and roll the small scoop of Ice Cream in that before sandwiching between the two Cookies.