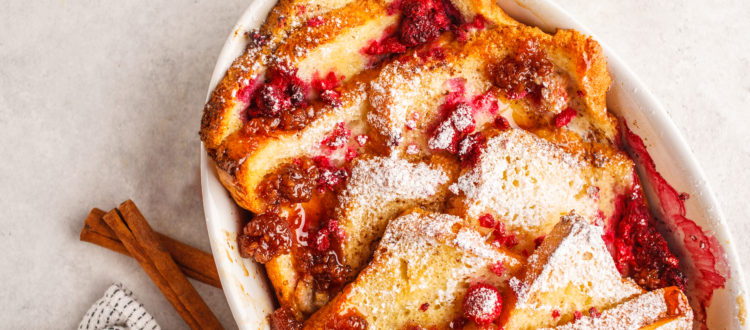 Who knew baking a delicious Bread and Butter Pudding would be so easy? Serve this delicious heart-warming pudding after dinner with some fresh cream or ice cream – yum!
Ingredients
6 – 10 slices of Coupland's Premium White Toast Bread
Butter or margarine for spreading
4 tbsp of a fruit of your choice
2 eggs
2 tbsp white sugar
2 cups of Dairy Dale Milk
1 tsp vanilla essence
1/2 tsp nutmeg
1/2 tsp cinnamon
Method
Preheat oven to 180 degrees fan bake.
Cut each slice in half diagonally to make two triangles.
Spread one side of each triangle with some butter or margarine.
Lay four bread triangles butter side down in a small dish approximately 20cm x 20cm (one that you might use to make a pie or small lasagne).
Sprinkle with some of the fruit.
Repeat step 3 and 4 to form layers using the remaining bread and fruit.
Finish with a layer of bread with the butter side up.
Beat the eggs and sugar together, then add the Dairy Dale Milk and vanilla.
Pour over the bread and butter and then sprinkle the top with nutmeg and cinnamon.
Place the small dish inside a large roasting dish filled with water to come 3/4 the way up the sides of the small dish.
Bake for 30 minutes, or until golden brown and set.
To Serve
Divide among bowls and top with fresh cream or ice cream – delicious!
Tips
If you have kids who are not to fond of bread crusts, feel free to cut them off.
Our Bakers have suggesting to try adding raspberries, stewed peaches or currents and sultanas to the recipe as your fruit of choice.
How will you be having your bread and butter pudding?