Hot Cross Buns – Traditional
Ingredients
Ingredients
Wheat flour, water, currants, raisins, sugar, yeast, mixed spices, wheat gluten, vegetable oil, wheat starch, emulsifier(471, 481, 472e, 322 soy, 435, 491), iodised salt, glucose(preservative(220)), soya flour, flour improver(300), flavour, vegetable gum(415)(contains soy), raising agent(500, 541), salt.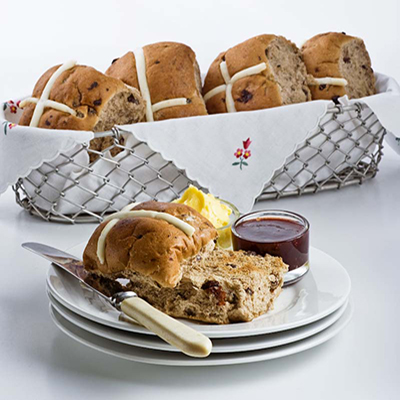 Handcrafted from a Coupland's family recipe, our Hot Cross Buns are made from the finest real ingredients, to give you the softest, fluffiest buns bursting with spices and fruit. Toasted or fresh, you and your family will love them.
We are super proud of our Hot Cross Buns and believe they are the best, so go on, give them a go and tell us what you think!
Subscribe to our newsletter
Share this treat with your friends