Southern Plains Soya & Linseed
Ingredients
Price
2 for $5.50
OR $3.20 each
Ingredients
Wheat flour, water, mixed grains [kibbled soya (6%), wheat, linseed (4%), rolled oats, corn, rye], rye flour, gluten, yeast, iodised salt, honey, vegetable oil, white vinegar, soya flour, emulsifiers (472e, 481, 471).
Contains wheat, rye, oats, gluten, soya.  Manufactured on a production line that uses milk products and sesame seeds.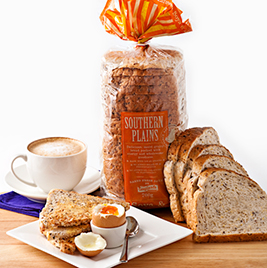 A delicious, moist grainy bread packed with energy and wholesome goodness of soya and linseeds.
Made with local grains
Low sugar and no added preservatives
No artificial colourings or flavourings

We are super proud of our bread and believe it is the best, so go on, give it a go and
tell us what you think!
Available South Island only
Each hearty and delicious Southern Plains loaf is made from only the finest grains...
Subscribe to our newsletter
Share this treat with your friends