Southern Plains Harvest Grain
Ingredients
Price
2 for $5.50
OR $3.20 each
Ingredients
Wheat flour, added water, mixed grains (14%)(wheat,rye), sunflower seeds, gluten, rolled oats (3%), linseed, pumpkin seeds, barley flakes (3%), rye flour, kibbled soya, yeast, iodised salt, malt extract (barley), vegetable oil, malt flour, white vinegar, soya flour, emulsifiers (472e, 481, 471), flour improvers (170, 300,516).
Contains wheat, barley, rye, oats, gluten, soya.  Manufactured on a production line that uses milk products and sesame seeds.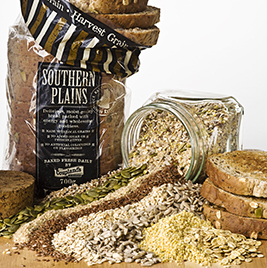 For lovers of really grainy bread we suggest you check this wonderfully flavoursome loaf. Combined into a fantastic taste hit are 9 seeds & grains delivering you not just great taste but the wonderful benefits these grains & seeds contain.
Made with local grains
Low sugar and no added preservatives
No artificial colourings or flavourings

We are super proud of our bread and believe it is the best, so go on, give it a go and
tell us what you think!
Our best seller!
Subscribe to our newsletter
Share this treat with your friends