Ingredients
Price
2 for $4.00
OR $2.20 each
Ingredients
Wheat flour, added water, yeast, iodised salt, sugar, vegetable oil, white vinegar, soya flour, emulsifiers (472e, 481, 471), flour improvers (170, 300,516).
Contains wheat, soya. Manufactured on a production line that uses milk products and sesame seeds.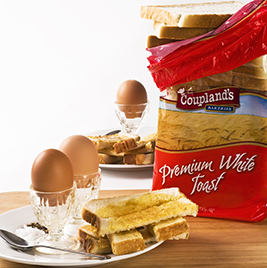 A classic white loaf; great for toasting. With a taste children love, and made from the inner section of the wheat grain. Premium White is ideal for the fast action lives of both active kids and adults.
We are super proud of our bread and believe it is the best, so go on, give it a go and
tell us what you think!
Also available in Sandwich
Share this treat with your friends