Ingredients
Price
$1.60 each or 2 for $3.00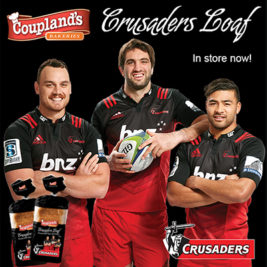 A Premium White Super Thick Toast Bread
Feeding the Crusade – We have teamed up with the almighty Crusaders to bring you the Coupland's Premium White Super Thick Crusaders Loaf
Made for the fans, the Crusaders Loaf is prepared from the inner part of the wheat grain and is ideal for action-packed eager Crusaders Fans. It has the taste beginners through to advanced players love, toasted or eaten fresh from the bag at half time, or any time. The Crusaders Loaf is a great way to refuel the empty tanks that are always on the go and like the Crusaders, Coupland's Bakeries is proudly born & bred in the South Island.
Exclusive to Coupland's Bakeries stores (Nelson, Blenheim, Christchurch, Ashburton and Timaru regions only)
Available for a limited time only.
Coupland's Crusaders Fanzone...
Share this delicious Crusaders Loaf with your friends